Buying Investment Property in Dallas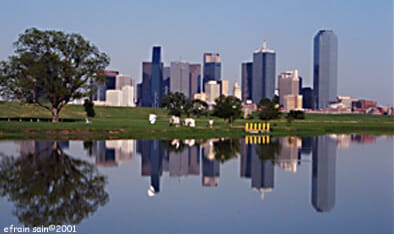 Dallas is one of the fastest growing cities in the United States. According to the 2010 Census figures, Texas added over 4 million residents since 2000, a 20.6 percent increase over the decade. Percentage-wise, Texas' growth was the fifth highest nationally. The growth trend is not playing out evenly across the state. Dallas-Fort Wroth, Houston-Galveston, San Antonio-Austin, and the Rio Grande Valley account for approximately 90 percent of the change in the state's population.
Given the increase in population, Dallas is one of the Southwest's leading business and financial centers. We have an increasing number of companies that relocate to Dallas each year.
Buying real estate in the Dallas Metroplex requires knowing the areas in the Metroplex. What is the best area in Dallas to buy real estate depends on your long and short term investment strategy. Do you want properties that will cash flow or are you looking for properties that will have good long term appreciation? Texas real estate is undervalued compared to real estate on the east and west coasts.
Although Dallas is one of the best areas to invest in real estate, that does not necessarily mean it is the best opportunity for you. Below is a list of questions for you to consider before becoming an investor in Dallas
Do you have enough capital for your investment?
Are you going to buy your property in cash or get a mortgage?
What is the cost of a mortgage?
How does this investment property fit into your overall economic picture?
Do you have enough funds for maintenance and capital expenditures?.
Are you able to afford the rise and fall of rental rates?
Can you handle a vacancy for how long?
Who is going to manage your property?
Do you have a crew to handle your maintenance?
Do you know who much routine repairs and capital expenditures will cost you on your property?
Do you have emergency coverage?
Have you talked to your lawyer about legal entities and your investment?
Have you talked to your accountant on how this investment effects your tax liability?
Are you buying this property by yourself or with a spouse/partner and do you both feel the same about this investment?
If you are buying real property with a partner, do you have a partnership agreement?
Will your property cash flow or you just hoping for capital appreciation?
Smoger Realty is happy to discuss the above with you if your are considering an investment property in Dallas, Texas.